Grateful Dead Scrapbook Part 1
Newspaper Clippings
Collected from rec.music.gdead
---



---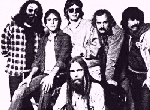 R.I.P. Brent Mydland
---
GRATEFUL DEAD MEMBER FOUND DEAD AT HOME
By Kevin Leary
Brent Mydland, the shy but multitalented keyboard player for the Grateful Dead for the past 11 years, was found dead in the bedroom of his Lafayette home yesterday morning.
The cause of the 38-year-old musician's death was not immediately known and an autopsy is scheduled for today, according to the Contra Costa County coroner's office.
Sergeant Richard Terry of the coroner's office said Mydland's body was found by friends who went to visit him at his home on My Road in the hills north of downtown after they had not been able to reach him by telephone.
Mydland joined the band in 1979. He was a keyboardist, a composer and a singer with phenomenally successful Bay Area-base rock group, which had just returned from a three-week tour that ended Monday in Chicago, according to the band's spokesman, Dennis McNally.
"He was in a happy, productive, and creative mood," said McNally. "It was a great tour."
McNally said the other five members of the Grateful Dead were meeting late yesterday afternoon "to talk, to grieve, and to figure out what to do next."
McNally said that as a singer, Mydland "had a wonderful, rough, bluesy textured voice that was wonderful on high harmony. As a keyboardist, he opened up the whole world of synthesizers, piano and organ to the Grateful Dead."
Mydland is the third Grateful Dead keyboardist to die. Ron (Pigpen) McKernan, a founding member, died of liver disease in 1973, and Keith Godchaux died in an automobile accident in 1980, a year after leaving the band.
Mydland was born in Munich, Germany, where his father was serving as a chaplain with the U.S. Army. The family moved to Anitoch when Mydland was 1 year old. He grew up in the East Bay, attending high school in Antioch and Concord, where he first became involved in rock music.
After graduating from high school, Mydland floated around California and made his name as the keyboard player with a band called Silver. In 1979, he was invited to join the Grateful Dead to replace Godchaux.
During the first few years with the band, Mydland played in the shadow of the other more famous band members, but in recent years, he had come on as a stronger presence.
"In the last couple of years, Mydland had written more and more and had become a much more significant composer," said Blair Jackson, co-publisher of The Golden Road, a magazine that chronicles the Grateful Dead.
Born in the psychedelic era of the 1960's in San Francisco, the Grateful Dead became popular for its anti-commercial stance. Although producing few hit singles, the band has recorded numerous albums and has been consistently among the top 10 touring acts in the country for the past 25 years.
Its outdoor concerts became legendary for attracting tens of thousands of dedicated fans -- known as "Deadheads" -- from all across the country.
News of Mydland's death spread quickly through the close knit Deadhead community, which follows the band's every move. The Grateful Dead Hotline, which provides information on concert dates and tickets, was besieged with calls by early afternoon.
Mydland is survived by his wife, Lisa, two daughters and his father, Dedrik Mydland.
---
In today's SF Chronicle:
"Mydland's body was released to an East Bay mortuary in preparations for private memorial services which will be held early next week in Contra Costa County.
Grateful Dead spokesman Dennis McNally said only Mydland's family, the band and close friends will attend the service. "Recordings of Brent's music will probably be played at the memorial," he said.
Mydland's family asked that the band's thousands of passionate fans, known as "Deadheads", make memorial donations to the environmental group Greenpeace, which Mydland supported. One of his songs, "We can run..." was turned into an environmentalist video by the Audubon Society.
McNally said that he expects the five members of the band to carry on the theatrical tradition that the show must go on and play concerts scheduled for August 31, Sept.1 & 2 ... after that the band is scheduled to tour the East Coast."
---
Tuesday (7-31-90) morning's S.F. Chronicle:
The Grateful Dead, whose keyboard player, Brent Mydland, died last week at the age of 38, won't be canceling any of it's upcoming shows. The Dead will play as a quintet until a replacement for Mydland is found.
"Life must go on." said Dead publicist Dennis McNally. "My assumption is the band will play the Labor Day weekend shows at Shoreline as a quintet, and probably start out its September East Coast tour that way, too.
"They're looking for a sixth man who plays keyboards and who can sing harmonies well."
---
There is a new message as of Aug 6, apparently only on the 415-457-TIKS number.
"The following is a statement from the Band concerning Shoreline:
Dear Deadheads,
Maybe it was some kind of daydream, but we thought we could audition, select, and rehearse and be ready to start all over again on August 31. Well we found out differently. Big shoes to fill and we haven't found the right feet yet. When we play again we want it right to our ears and yours, so we are canceling the Shoreline shows on August 31st, September 1st and September 2nd.
Best,
Grateful Dead"
---
From the Boston Globe, August 15:
GRATEFUL DEAD SEEKS NEW PIANO MAN
The Grateful Dead, moving on from the recent drug overdose death of pianist Brent Mydland, will return to the road next month, but don't look for them at the Providence Civic Center, where three nights had been discussed before the band's management nixed them, reportedly because of fears of ticketless fans clogging the premises. The closest scheduled shows are six concerts set for Madison Square Garden in New York City. Pianist Bruce Hornsby plans to sit in on five of those dates--Sept. 15-16 and 18-20. But another pianist must be hired for the Sept. 14 date and for three-show runs scheduled in Cleveland (sic) and Philadelphia. A source rules out Merle Saunders or Tom Constanton (sic), who have worked with the Dead before (sic). The front-runner may be Pete Sears of the Starship. "The band is looking at old pals from the Bay area," said spokesman Dennis McNally. "That's all I can say."
---
S.F. Chronicle:
Tubes Keyboardist Joining the Dead
Only a handful of musicians considered
By Joel Selvin
Chronicle Staff Writer
The vacant Grateful Dead keyboard chair will be filed by the keyboard player for the Tubes, the Chronicle learned yesterday.
Vince Welnick, 39 will make his first appearance as a member of the Dead on September 7 in Cleveland.
"I woke up one day and I was Dead," Welnick said. "Now I'm Grateful Vince"
He has been holed up with the group in the Dead's San Rafael studios since the weekend, frantically absorbing the band's extensive repertoire. "My only concern right now is learning about 135 songs," he said.
"I looked up at Garcia," said Dead drummer Mickey Hart, "and said '30 down, only 120 to go.'"
A Handful of Tryouts
Welnick was one of only a handful of people to try out for the position left open when Brent Mydland, the band's keyboardist for the past 11 years, died from a drug overdose last month. Among the half dozen keyboardists considered for the post were Pete Sears, formerly of the Jefferson Starship, Tim Gorman, who has toured with the Who, and T. Lavitz of the Dixie Dregs.
"They wanted that high (vocal) harmony, and I don't have that kind of that going for me," said Sears.
Candidates were given tapes of six dead concerts containing more than 80 songs and then invited to informal sessions with the assembled Dead.
"How do you audition someone for the Grateful Dead, open heart surgery?" chuckled Hart. "They all could play, they were all good. This guy just jumped on it. He is a solid musician and he doesn't panic when we go out in the zone. Anyway, we can't sit around forever. This is not Hollywood." Welnick moved to the bay area from Phoenix 20 years ago with the Beans, a band that occasionally played Grateful Dead songs. The Beans were the nucleus of the Tubes, a daring theatrical band that recorded a procession of albums for A & M and Capitol Records from the mid-'70's through the early '80's. The dense hard rock of the Tubes was always a far cry from the lacy improvisations of the Dead.
Saw the Dead in the '60's
Welnick remembered catching a couple of 60's shows by the Dead when the band's original keyboardist, Ron (Pig Pen) McKernan, was still alive. He hasn't seen the Dead since. Nor was he familiar with most of the band's repertoire.
Welnick most recently toured with Todd Rundgren, who has produced two albums by the Tubes. Before joining the 11 piece Rundgren band, Welnick continued to perform with the current skeletal version of the Tubes and planned to return to that band up until the Dead position came up.
Hornsby Signs on
Bruce Hornsby, already reported as the substitute for the band's upcoming New York dates, will join the Dead as planned, playing a second set of keyboards alongside of Welnick for five of the six nights at Madison Square Garden next month, and for their upcoming European tour.
The Dead will make no official announcement, although the group's press spokesman confirmed the Welnick selection. "They kind of told me to keep it under my hat," said Welnick, "but I knew it was going to get out. I was kinda bragging to some people."
I think his wife already went out and bought him some tie-dyed clothes," said Tubes drummer Prairie Prince.
---
The following is a tribute to Brent which appeared in Saturday's Quincy, Mass. Patriot Ledger. Reprinted with the authors permission...
By Chris Cowles
The Patriot Ledger
``Wind and rain, now tell me why, summers fade and roses die. The answer came, the wind and rain. Golden hills now filled in grey, summer's leaves are blown away -- and what remains, the wind and rain...''-- Weather Report Suite by The Grateful Dead
Brent Mydland's life ended just as it had begun to bloom. As the keyboardist/singer for the Grateful Dead, Mydland went from a shy player to one of the sources of the band's onstage drive and creative energy.
He was the third keyboardist in the band that is nearing its 25th anniversary of playing it's distinct brand of good time music, Mydland was found dead Thursday afternoon in the bedroom of his house in Lafayette, Ca. a suburb 25 miles east of San Francisco. He was 38. Founding member Ron ``Pig Pen'' McKernan died in 1973 of liver disease and was replaced by Keith Godchaux. Godchaux and his wife, Donna, left the band in 1979 -- he died a year later in an auto accident.
While Mydland replaced Godchaux in 1979, he was far from unknown in the Bay Area music scene. He started his career with the group Batdorf and Rodney was a central member with the band Silver. Mydland also played in Bobby and the Midnites -- a splinter band fronted by the Dead's rhythm guitarist Bob Weir. Mydland also did short stints with Kokomo and in 1986 while the Dead were taking time off during guitarist Jerry Garcia's hospitalization, Mydland and Dead drummer Billy Kreutzmann hooked up with members of Santana and the Youngbloods for a brief tour as Go Ahead which played Boston's Channel club that fall.
His early years with the band were spent in the background as a supporting player but this soon changed. Go To Heaven released in 1979 featured a pair of Mydland songs -- ``Far From Me,'' and ``Easy to Love,'' the latter which the band began playing again on their recent spring tour for the first time in 10 years.
Ardent fans of the band, known as Deadheads, will best remember Mydland as a performer. Many times his stage presence was that of anger that rained fire and brimstone. His gritty voice melded with driving blues organ and boogie piano in soulful songs such as ``Never Trust a Woman,'' ``Don't Need Love,'' and the rarely played ``Maybe You Know.'' He provided the groove and power when the Dead pulled out versions of the Spencer Davis Band rave-up ``Gimme Some Loving,'' the Beatles ``Hey Jude,'' the Meter's ``Pocky Way'' and the wonderfully rocking renditions of ``Devil with a Blue Dress/Good Golly Miss Molly.''
More than anything, Mydland was a member of one of the most unique bands in music today -- he wasn't just another number in a touring road show -- but an intricate part that was more like a family than a band.
It was the recent spring tour where Mydland was probably at his musical best with the band. He had four songs on the band's 1989 release Built To Last that were co- written with lyricist John Barlow including ``Blow Away,'' ``I Will Take You Home,'' ``Just a Little Light'' and the environmentally-conscious ``We Can Run (But We Can't Hide)'' which was used in a recent Audubon Society video.
Mydland's newer material is not only some of his most creative but also comes off well on stage. While ``Blow Away'' had the full-tilt, top to bottom drive, the lilting ``I Will Take You Home,'' a lullaby to his two daughters, often cradled the crowds in it's beauty.
Mydland was born in Munich, Germany, where his father was serving as a chaplain with the U.S. Army. The family moved to California when Mydland was 1 year old. His is survived by his wife, Lisa, two daughters and his father, Dedrik Mydland.
---



---